WELCOME TO SHAKTI FOODS !
Exceeding the demands of the market, we provide healthy, flavorsome and long lasting Dehydrated White Onion, Red Onion and Pink Onion in Kibbled, Minced and Chopped form at pocket friendly prices.
About Us
In the modern era, where people are so busy to cut or chop vegetables, we,
Shakti Foods
have come up with the new technique of making people fully satisfied, by providing
Dehydrated White Onion, Dehydrated Red Onion, Dehydrated White Onion Kibble, Dehydrated Red Onion Minced, Dehydrated Toasted Onion Powder, Dehydrated Carrot
and various other products. Being a trusted
Manufacturer
,
Supplier
and
Exporter
, we supply all these products in the global market at reasonable pricing. Our products are famous for rendering good taste and longer shelf life. The chopped, powdered and kibbled forms of vegetables helps preparing food in less time, giving equivalent and effective results. With various versions of our food items, these can be accompanied on family tours, vacations and business trips. The nutritious products are prepared in our state-of-the-art-infrastructure by the experts team. Our organization is recognized for transparently dealing with the clients and smoothly solving queries. Since the inception of our company in the year
2012
, we are constantly aiming to achieve the set goals of the organization, with the expert guidance of our mentor.
Products Offered by Us
We offer an amazing variety of food flavorings, that are listed below:
Dehydrated White Onion

Kibbled
Chopped
Granules
Minced
Powder

Dehydrated Red Onion

Kibbled
Chopped
Granules
Minced
Powder

Dehydrated Garlic

Dehydrated Toasted Onion

Kibbled
Chopped
Granules
Minced
Powder

Dehydrated Cabbage
Dehydrated Carrot
Dehydrated Tomato
Food Spices
Quality Assurance

Our ready to open and sprinkle food items are baked in our fully furnished production units, that is equipped with latest technology equipment. With our promise to provide only quality assured products, the procuring agents makes sure that cabbage, garlic, carrots are procured from our vendors. After the processing of food products, our specialist team of quality inspectors test the prepared items, according to the guidelines of the Indian standards. Thus, ensuring food safety.

Infrastructure

To produce only standardized food products, we have well-maintained the infrastructure. Our infrastructure is divided into three production units, a warehouse and three consultant companies. For preparation of high quality food items in a short span of time, we have installed dehydration, cutting and grinding machines in our fabrication department. These machines are checked and upgraded on timely basis. Further, to ensure quality maintained delivery, we place the well-packaged food products in our warehousing unit, assuring spoilage free delivery.

Clients' Satisfaction

The foremost objective of our organization is to meet the varied demands of the market and to provide maximum amount of satisfaction to our customers. To attain this, our adroit team of professionals work dedicatedly to provide only quality tested, flavorsome and aromatic seasonings. With our inclination towards providing all the above said features in Dehydrated White Onion Kibbled, Dehydrated Cabbage etc, has made us establish firm relations with our export clients, hotel customers and various others, who place repeated orders with us on regular basis.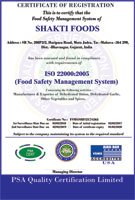 Contact Details
SHAKTI FOODS
208 P2/2, Mota Jadra Haripara Road, Dwarkadhish Marg, Mahuva - 364290, Gujarat, India
Mr. Pruthviraj Sinh Zala (Partner)
Mobile :+919898909686, +918141289292